Gigo

Personal information
Full name
Gilberto Souza da Costa
Born
2 Aug 1989
Height
1.78 m
Club information
Current club
SSC Napoli
Position
Attacking midfielder
Club history
FC Grijzestad B
2005-2008
Grijzestad Strijders
2008-2013
SSC Napoli
2013-present
Gilberto Souza da Costa (born 1989), known as Gigo is a Brazilian-Brunanter footballer who plays for SSC Napoli, after eight years with Grijzestad Strijders. He is one of the best players in the Brunanter First League in the past few seasons.
Early life
Edit
Gigo was born in Pernambuco to a middle class family. He played at local football team since he was 10 years old. A very talented player, he was recommended to to then-Grijzestad Strijders coach Miguel Pinto, who went to Brazil to see this unknown talent in 2005. Gigo was soon signed on to Grijzestad on a four-year contract, att the age of just 16.
Grijzestad B
Edit
Gigo, as he became known, played the 2005-06, 2006-07 and 2007-08 seasons in FC Grijzestad B, the reserve squad playing in the Hogeberg-Liga. The first season, Gigo was faced with injury problems and played only four matches. But, in 2006-07 he led the team and league in assists and the next season he did the same, plus scoring five league goals.
Grijzestad
Edit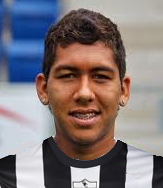 At Grijzestad, Gigo has improved dramatically and has transformed into the central attacker for his team. His first season at top level, 2009-10 was spent as a substitute with only five starts, but he did not waste his opportunities and provided six assists and two goals as Grijzestad won the league. In 2010-11 and 2011-12 he had a more pronounced role as attacking midfield, as Grijzestad finished fourth and then second. In 2011-12 he was the second-highest scorer in the league, netting 17 times and providing 19 assists.
In the 2012-13 season, Gigo has scored 13 goals in fifteen matches played to a total of 13. In January 2013, Gigo signed a 4-1/2 year contract extension, worth €30,000/week (€1.56 million yearly) with a contract buyout clause of €14.8 million. That season he finished with 18 goals, a personal record and second in the league.
In August 2013, Gigo was transferred to SSC Napoli in Italy for an unprecendented €16 million, the highest Brunanter fee. His buyout clause was triggered by a €15 million bid, but the club rejected it. Gigo is expected to make around €2 million yearly.
Ad blocker interference detected!
Wikia is a free-to-use site that makes money from advertising. We have a modified experience for viewers using ad blockers

Wikia is not accessible if you've made further modifications. Remove the custom ad blocker rule(s) and the page will load as expected.