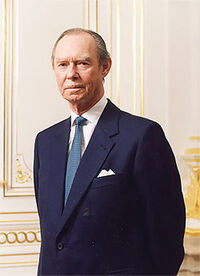 The Funeral of King Marten II was held on October 16, 2011 after a period of national mourning.
From June 2010 King Marten II got very sick, and though he made progress he acquired bronchitis and a string of lung problems in 2011. By September 23 doctors announced his chances of recovery were slim. On October 9, 2011 Marten died at 8:58 PM, at the age of 88.
The Government of Brunant declared a week of mourning following the announcement of his death by the Realpaleis. Across the nation, people held tributes and flags were placed at half mast.
Laying in wait
Edit
King Marten's casket lay in wait in the rotunda of the Realpaleis' Royal Mausoleum. Thousands of people came from all over the capital region, Cape Cross Parish, Brunant and even from abroad to pay their respects. Several foreign dignitaries also paid their respects.
Funeral procession
Edit
The casket was carried by an honor guard from the Royal Guard. The procession, including foreign dignitaries, royalty and a military escort made its way to St. Peter's Church as thousands lined the streets to see the procession. At the church a mass was held for the king, with First Lady Henneman and Ivan Gašparovič of Slovakia (a personal friend) reading verses in his honor. The funeral train then made it's way through to The Port district, Charleston Beach and finally across the Marten Bridge to Dortmund. He was then buried at the National Cemetery
Attendants at the funeral
Edit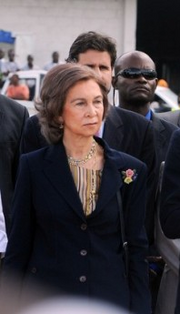 Royal family
Edit
Members of the Royal family present included Marten's widow, Queen Aleksandra, his children Prince Anthony (the King), Princess Marie and Prince Wilhelm. As well, his six grandchildren, two great-grandchildren and nephews, nieces and other relatives attended.
Brunanter dignitaries
Edit
Various Brunanter politicians were in attendance, including President and Mrs. Gert and Marta Henneman, President Silvia Van Damme, Prime Ministers Robert Helms, Frederic Darnley (and Mrs. Darnley), Ines Michels, Henry Jorgeson (and Mrs. Jorgeson) and Edward Willemont (and Mrs. Willemont).
Foreign dignitaries
Edit
The funeral was attended by various foreign dignitaries, including:
President Danilo Türk of Slovenia
President and Mrs. Ivan Gašparovič of Slovakia
President and Mrs. Václav Klaus of the Czech Republic
President Andris Bērziņš of Latvia
Bill and Hillary Clinton
George and Barbara Bush
King Albert II and Queen Paola of Belgium
Princess Victoria of Sweden
Foreign Affairs Minister John Baird of Canada
President and Mr. Giovanna Grassa
Ad blocker interference detected!
Wikia is a free-to-use site that makes money from advertising. We have a modified experience for viewers using ad blockers

Wikia is not accessible if you've made further modifications. Remove the custom ad blocker rule(s) and the page will load as expected.