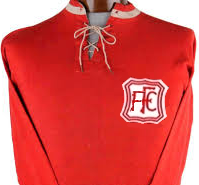 The Fulvian Football Club (Fulvia) was a Brunanter football club founded in 1890 and based in Niesburg. It was one of the most successful teams in Brunant, having won eight championships between 1909 and 1937, and having seven second-place positions. Fulvia saw its owners arrested in 1938 for tax evasion and fraud. The team's stars, including Florian Evers left the team in 1938-40. Fulvia stopped playing during WWII and after the war the team was officially disbanded.
Notable players
Edit
First League champions: 1908-09, 1910-11, 1912-13, 1914-15, 1922-23, 1927-28, 1933-34, 1936-37
First League runner-up: 1911-12, 1913-14, 1918-19, 1919-20, 1931-32, 1934-35, 1935-36
Johan II Cup: 1934-35, 1935-36
Ad blocker interference detected!
Wikia is a free-to-use site that makes money from advertising. We have a modified experience for viewers using ad blockers

Wikia is not accessible if you've made further modifications. Remove the custom ad blocker rule(s) and the page will load as expected.