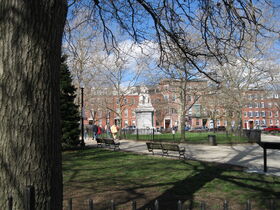 Fellowton Square is an old plaza in the southern part of Charles Town, Sint-Anders Parish, where Fellowton Avenue, Adams and Charles Street meet. It is considered the town's core. Fellowton Square is the fifth stop on the Discovery Trail. The historic Town Hall and St. Charles's Church are located next to it.
The square is named after native Prescott Fellowton, a Brunanter colonel in the Invasion of Brunant who commanded rebel forces at the Battle of Summer Hill.
Ad blocker interference detected!
Wikia is a free-to-use site that makes money from advertising. We have a modified experience for viewers using ad blockers

Wikia is not accessible if you've made further modifications. Remove the custom ad blocker rule(s) and the page will load as expected.