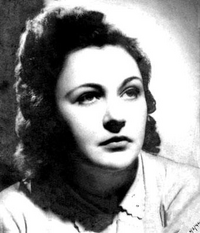 Elise Hagen RM, Hon (12 February 1922 in Grijzestad - 20 April 1995 in Koningstad) was a Brunanter WWII resistance fighter.
Biography
Edit
Early life
Edit
Elise was born to Norwegian dentist Carl Hagen (1985-1928) and Angela Mannesberg (1887-1941) in Grijzestad. During the German Invasion of Brunant in 1941, Nazi troops began to shell Grijzestad and her mother died in the subsequent attacks.
Resistance
Edit
Soon after, Elise joined the Underground Revolution, becoming an active resistance fighter. Elise frequently hid Jews in her house, mostly neighbors who were at risk of being deported or killed. She was involved in various attacks on German troop convoys. Her most daring mission was in 1943, when she and two other "revolution" members went to heavily-guarded Koningstad's port and was able to place detonators on a supply ship, leave the guarded area and detonate it without being caught.
In mid-1944 she and another member went to spring three other captured members from a Grunbeck; they were freed but she was captured. Elise endured interrogation and varoius forms of extortion, but she would not crack. Finally, on 18 August 1944, she was freed. After this, she continued to resist actively and she even took a bullet meant for a Jewish girl. Left for dead by the Nazis, Elise was rescued by her neighbors and cared for.
Later life
Edit
After the war, she was awarded the Resistance Cross (1946) personally by President Willem Darnant. She later received the 1945 War Medal, the only civilian to receive it. In 1955 she was awarded the Royal Order of Merit by King Johan II, the highest civilian order, and in 1966 she was awarded the Medaille d'Honneur, becoming one of two civilians and the only woman to receive it.
In 1949 Elise married Theodore Hagen (not related) and had two children, Frank (1951) and Theresa (1953). Frank Hagen is a former politician and current ambassador of Brunant in Lovia.
Ad blocker interference detected!
Wikia is a free-to-use site that makes money from advertising. We have a modified experience for viewers using ad blockers

Wikia is not accessible if you've made further modifications. Remove the custom ad blocker rule(s) and the page will load as expected.