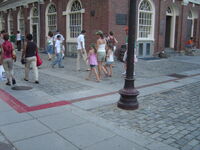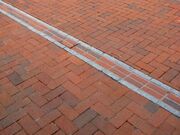 The Discovery Trail is a red path, mostly made of bricks, through Charles Town, Sint-Anders Parish, that leads to eight significant historic sites. It is a walk of about 1.5 miles (2.4 kilometers) from the Summer Hill Monument to The Watchman. Simple ground markers explaining events, places and buildings are stops along the way. All sites have free admission, however, some suggest donations.
The Discovery Trail was conceived by former mayor John Galway in 1953 who since 1951 had promoted the idea of a pedestrian trail to link important local landmarks. By 1956 40,000 people annually were enjoying the sites and history on the trail.
Official trail sites
Edit
Ad blocker interference detected!
Wikia is a free-to-use site that makes money from advertising. We have a modified experience for viewers using ad blockers

Wikia is not accessible if you've made further modifications. Remove the custom ad blocker rule(s) and the page will load as expected.