WELCOME TO BRUNANT!

Country Wiki is all about the fictitious country of Brunant. Everyone is welcome to create or edit articles about this country. Create your own character and become a citizen of Brunant today! As a citizen, you will be able to: participate in the politics as a representative in the congress, set up your own businesses or political parties, and contribute to the cultural and intellectual developments of this vibrant society. The Kingdom of Brunant is a small island nation situated in the Meditarranean Sea. Brunant is a unitary state that is governed as a parliamentary democracy and a constitutional monarchy, with Queen Helene as its head of state. It is also a bilingual nation with both English and Dutch as official languages at the national level. A highly developed country with a well-diversified economy, it has one of the highest standards of living in the world. Brunant consists of twelve parishes, and the national capital is Koningstad. Other major cities and towns include Cape Cross, Carrington, Donderstad, Grijzestad, and Roodstad.

In the News:

About Brunant | Parishes | Settlements | History | Politics | Geography
Recently added | Recently edited | Statistics | Categories | Pages (3,155)
FEATURED ARTICLE
The
Brunant national football team
(
Dutch
:
Brunanter nationaal voetbalelftal
) represents
Brunant
in association football and is controlled by the
Royal Brunanter Football Association
. The team is coached by Brunant's home stadium is the
Koningstadion
, although they also play at the
SD Bank-Center
. The team is nicknamed "the red dragons" ("de rode draken"), as they use red jerseys.
Brunant is considered to be the best footballing wikination and have won three World Football Championships, most of any wikination and other regional tournaments. They are presently ranked first in the WNFA's tell.me world rankings.
MEDIA SPOTLIGHT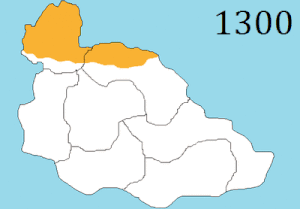 Animated map showing the extent of the Barzuna language in Brunant, 1100-2000.
START WRITING
To write an article, just enter the title in the box below.

ABOUT BRUNANT

The Kingdom of Brunant is a small island nation situated in the Meditarranean Sea. Brunant is a federal state that is governed as a parliamentary democracy and a constitutional monarchy, with Queen Helene as its head of state, and Peter Wostor as its Prime Minister. It is also a bilingual nation with both English and Dutch as official languages at the federal level. A highly developed country with a well-diversified economy, it has one of the highest standards of living in the world.

GEOGRAPHY OF BRUNANT

Brunant is an archipelago in the center of the Mediterranean Sea. It consists of five islands, Hogeberg Island, Central Island, Middleton Island, Rose Island and Brunant Island. As a Mediterranean country, Brunant has a Subtropical-Mediterranean climate, with mild winters and warm summers. Precipitation mainly occurs during the winter, while summer is generally dry. The average yearly temperature is 22–23 °C (72–73 °F) during the day and 15 °C (59 °F) at night.

HISTORY OF BRUNANT

Brunant was originally discovered by the Romans, who made a settlement at Villa Fulvia. Later the Venetians would come in the 13th century. They would be kicked out by Dutch settlers, who in 1427 declared Brunant independent. Transition to a monarchy occurred in 1475 and although there have been attempts against its removal, it has survived to the present day.

MAP