Company 8 is a book written by Grijzestad University scholar and author Anneliese Martins. It follows the story of the 8th Infantry Company, who fought during the Second Battle of Ypres and failed to return. This book was the basis of the 2011 film The Lost Company.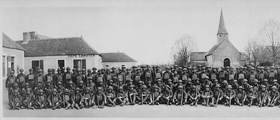 Many historians looking at Brunant's military history tend to study the German Invasion of Brunant, the Franco-Brunanter War and even the Brunanter Civil War. One area of our military history that is often looked over is World War I. Over 1600 men served overseas in 1915, 2500 more joined up in 1916 and in 1917-18 2800 more had served. 287 nurses and doctors also joined up to help the wounded. By war's end, over 2000 men had died, more military casualties than during World War II. In this time period there is one group of men that stands out above the rest: Company 8.
Chapter 1: Company 8
Edit
The 8th Circinus Company was a unit of 99 men who had enlisted in late 1914 and was shipped over to France in March 1915. These men would be stationed in Belgium and only saw action until early May. The company was split into two platoons: one stationed near Frezenberg ridge and the other at Bellewaarde.
Chapter 2: Over the top
Edit
On the 10th of May, Platoon 1 saw its first action. A German attack on Allied positions led them to adopt defensive measures within the trenches. In the midst of the attack the 42 men of the platoon were ordered "over the top" on May 12. By 6:00 PM only 9 men survived, four in terrible conditions.
Chapter 3: Bellewaarde
Edit
On the 24th, the Germans launched a gas attack at Bellewaarde ridge. Out of 57 men in Platoon 2, 23 died from the deadly gas fumes. During the chaotic retreat, another 20 were killed. Counterattacks were ordered for the 25th and the remaining 14 men plus the three commanding officers were killed.
Chapter 4: Aftermath
Edit
3 men from Platoon 1 died of their wounds by the 28th. On the 30th the remaining 6 soldiers were sent back to Brunant and one died on the journey there. Upon hearing of their tragedy, King Johan II personally came to visit the troops and officially retired the company. In 1928 the last survivor of Company 8 died. All had lived in miserable conditions after their return and led lives of poverty.