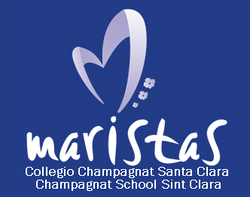 Collegio Champagnat Santa Clara (Champagnat School Sint Clara) is a private coeducational mixed-level school just outside Brezonde, run by the Marists. The school was founded in 1747 and has been run by the Marists since 1904. The Champagnat School is considered an elite—and one of the top—schools in Brunant and is one of the few schools with live-in dormitories for its students.
The Sint Clara School was founded in 1747. It was formally established as a Marist school in 1904. It was an all-boys school until 1970. The school became one for the elite and became known for having many successful alumni over the years.
In 1985 the school began incorporating Barzuna language classes. It is no longer a requirement to live in at the dormitories.
Santa Clara School has a long-standing rivalry with the public Ambrosian College in Koningstad, both academically and in sports like tennis and fencing.
The school
Edit
The school is housed in a building from the 1740s. The school has its auditorium and administrative areas in the central zone, the classrooms, dining room and library around the main courtyard and boys and girls dormitories in two annexes. A small chapel is located adjacent to the main building.
Notable alumni
Edit