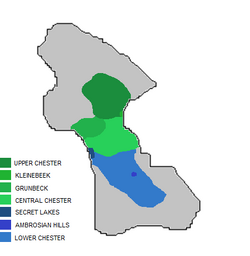 The
Chester Valley
is
Brunant
's largest winemaking region. The valley is found in
Chester Parish
and
Sint-Anders Parish
. It is also a major productor of olives in Brunant and in the region.
Upper Chester
Edit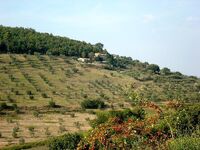 The Upper Chester is the northern part of the valley. This is where the bulk of Brunanter olives are grown. Olive farms first sprung up in the 1660s, since local farmers found the land very suitable. Here 6% of Brunant's wine is produced, but the quality is not as high as in other areas of the valley.
Kleinebeek
Edit
The Kleinebeek is a microregion in Chester Parish, just north of Grijzestad. The Philip Spock winery (Brunant's oldest) is found here, as well as the third largest producer nationally, Round Tree Estates.
Central Chester
Edit
The Central Chester is one of the largest winemaking regions of the valley. It extends from just south of Grijzestad to northern Sint-Anders parish.
Secret Lakes
Edit
The Secret Lakes is a small yet very fertile region in Sint-Anders Parish. Its terrain gives the local wine a deeper flavor and is highly enjoyed island-wide. The largest winery in the region is the Blue Caves Vineyard.
Lower Chester
Edit
The Lower Chester is a large winemaking region in the valley.
Ambrosian Hills
Edit
The Ambrosian Hills is a microregion in the lower Chester. This region is considered to be the best for winemaking, and the local wines are the best in the country. The famous Anselme and Château Pinsky wines are produced here, as is the Morels, fourth largest in Brunant.
Winemaking
Edit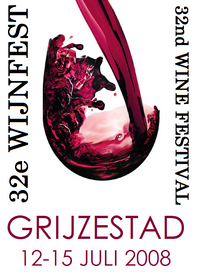 Winemaking in the region dates back to the 1500s when several settlers planted Moscatel de Alejandria grapes from Portugal and Spain. These grapes were used to create the distinct Brunanter Moscatel, a sweet wine used for desserts. The earliest commercial wineries date to the early 1500s and the oldest existing one is Philip Spock, dating to 1587 and producing wine under the Grizespock label since 1620.
Winemaking is a very important part of the region's economy. Much of the wine is exported to places in North America, Lovia and other parts of Europe. This business also attracts tourism, to wine tasting and to the yearly Chester Valley Winefest.
In 2011, total wine production amounted to 524,000 bottles, or 43,679 cases.
Famous wineries
Edit
See also: List of wineries in Brunant
Ad blocker interference detected!
Wikia is a free-to-use site that makes money from advertising. We have a modified experience for viewers using ad blockers

Wikia is not accessible if you've made further modifications. Remove the custom ad blocker rule(s) and the page will load as expected.