Charlestown FC

Full name
Charlestown Footballclub
Nicknames
The Charlies
The Fightin' Irish
Founded
2008
Stadium
Valor Field (capacity: 3,185 (389 seated))
President
Stone Chandler
Manager
Manuel Chandler (interim)
Kit

Home colors | Away colors
Charlestown FC, nicknamed the Charlies and the Fightin' Irish, is an AFC football club based in Charles Town, Sint-Anders Parish.
Notable players include Hank Harlow, Terry Jamieson and Hamid "Hama" Asma.
The korfball-club Charlestown KC is a part of the club.
Charlestown FC was founded in 2008, officially making it the youngest team in the Association of Football Clubs currently playing in the nationwide leagues.
In 2008-09 the club participated in the 2. Liga, came in second and were awarded promotion to the 1st league (Charlestown FC were allowed to start in the Second League because, at the end of the 2007-08 season, Charlestown-based Irish United FC dropped out of the league for financial reasons, with Charlestown FC effectively being the successor club). Libertan midfielder Ron Eikenhardt, whose contract with his home team FC Skeend[1] had come to an end, was added to the Charlestown roster.
In 2012 local players William Boeker, a defender from Sint-Anders, and Grunbecker Gert Van Eisner, 2009 Player of the Year, were traded for two footballers of the Lovian team Oaks of Kinley[2]: defender John O'Brian and forward Keith Otterburn. Also, another player from Libertan club FC Skeend was transferred, namely Hans Oudberghen.
For the 2013-14 First League the club could not avoid Oudberghen leaving the club. He was sold to St. Marks Koningstad for around €9 million plus a solid replacement, the Lovian Daniel Arbena. Wth this influx of funds it is expected the club will exand their stadium to better accomodate fans and viewers.
Formation
Edit
Charlestown FC uses the common modern 4-3-3 formation, widely regarded as encouraging expansive play, with a defensive midfielder. The three forwards split across the field to spread the attack, while the three midfielders play closely together to protect the defense, and move laterally across the field as a coordinated unit. The staggered 4–3–3 involves a defensive midfielder (numbered four) and two attacking midfielders (numbered eight and ten).
Current squad
Edit
Notable former players
Edit
Player of the Year
Edit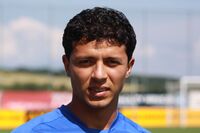 References and notes
Edit
Ad blocker interference detected!
Wikia is a free-to-use site that makes money from advertising. We have a modified experience for viewers using ad blockers

Wikia is not accessible if you've made further modifications. Remove the custom ad blocker rule(s) and the page will load as expected.