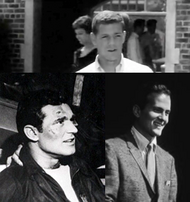 The Charles Town Mob was an Irish-Brunanter mob group in Charles Town, which figured prominently in the history of Sint-Anders Parish (and Hogeberg Island) for much of the 20th Century and which was especially active during the 1950s and 1960s.
Overview
Edit
Throughout the 1960s until the middle 1990s Charles Town was infamous for its Irish mob presence. The Charles Town Mob had between forty and fifty members. Their criminal activities included racketeering and murder.
The gang was headed by the McCaoinlin brothers, Barney, the founder of the gang, Yorick and Ned McCaoinlin, and their associates, brothers Garland and Bassett Smalls from Charles Town. Some of its notorious members included Arthur Benn, William and Edward Shackelett and John Doeford.
The Charles Town Mob was involved in the Gang Wars of the early to mid 1960s against the Montesini family led by Amadeo Montesini. The decade long gang war left both Barney and Yorick dead and Ned in prison. The Smalls brothers later suffered almost identical fates, as they were both shot to death on separate occasions.
In popular culture
Edit
The non-fiction book Small Town Crooks (2001) by Eugene Padric centers around the gang's various activities during the 1950s and 1960s, its active years. The book was adapted into the TV series of the same name by Philip Summer for BBN which originally ran from 2007 to 2008.
The Charles Town Mob is featured in History of a Mob Wife (1997), the Marianne Manoli biography of 'mob mom' Fabiana Capello, loosely adapted into the 2004 action-crime hit of the same name. In the film all three brothers were played by a then young and unknown actor, Steve Syracuse, in a performance which garnered him much praise and launched his career. Syracuse would successfully reprise the role of Barney in Small Town Crooks.
References and notes
Edit
Ad blocker interference detected!
Wikia is a free-to-use site that makes money from advertising. We have a modified experience for viewers using ad blockers

Wikia is not accessible if you've made further modifications. Remove the custom ad blocker rule(s) and the page will load as expected.