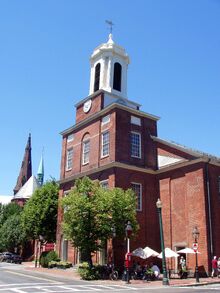 The Charles Town Hall is an early-nineteenth-century historic building in Charles Town, Sint-Anders Parish, at 3 Charles Street. Over its history the building has been used as a church, St. Mary's Church, a meeting house and most recently a town hall, making it a good example of adaptive reuse[2].
Town Hall is the sixth stop on the Discovery Trail.
St. Mary's Church was built between 1804 to 1807 to the designs by Irish architect Benjamin Asher for the Roman Catholic Church. It would become the site of notable speeches. During the second half of the 19th century, with the coming of Saint Charles and the construction of the church in his name the old church served less as a place of worship and more as a meeting place for government, with the congregation claiming to have no time to raise a proper meeting house.
The church was converted into a town hall at the end of century. The nineteenth-century altered sanctuary was relatively intact but much of the rest of the interior held little architectural significance in comparison with the exterior. The Department of Parks and Monuments then permitted extensive vertical and horizontal internal subdivision provided that the developer incorporate some existing ornamental features. From 1905 on it officially serves as the Charles Town Hall.
References and notes
Edit
↑ In the background of the photograph St. Charles's Church can be seen.
↑

Adaptive reuse refers to the process of reusing an old site or building for a purpose other than which it was built or designed for.
Ad blocker interference detected!
Wikia is a free-to-use site that makes money from advertising. We have a modified experience for viewers using ad blockers

Wikia is not accessible if you've made further modifications. Remove the custom ad blocker rule(s) and the page will load as expected.