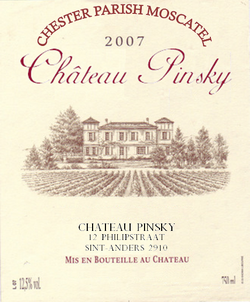 Château Pinsky is a Brunanter moscatel (and printanier) wine produced at the Château Pinsky estates in Sint-Anders Parish. CP wines have frequently ranked among the best wines in Brunant.
The Château Pinsky Estate was founded in 1876 by the brothers Alexander and Eduard Pinsky. They were originally from Russia but moved to France, where they learned the winemaking process. The Pinsky's winery was not very big, and even now the land is only 5 acres.
Château Pinsky moscatel: an excellent wine for cheese, fruits and desserts: €200
Château Pinsky fort: a stronger, bolder version of our moscatel: €280
Château Pinsky Printanier: a printanier made with great fruity flavor, aged longer and made in more limited quantities: €350

Château Pinsky Selection du Proprietaire: A selection of vintages from the proprietor's own cellars:

€525
Ad blocker interference detected!
Wikia is a free-to-use site that makes money from advertising. We have a modified experience for viewers using ad blockers

Wikia is not accessible if you've made further modifications. Remove the custom ad blocker rule(s) and the page will load as expected.