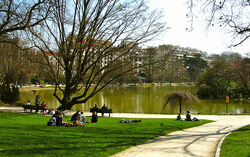 The Central Park is a city park in Koningstad Centrum, a neighborhood of Koningstad. It is one of the oldest of Brunant. The Central Park was built in the late 19th century with fountains, benches and statues, going along with Victor Janowicz's plan for the city.
Ad blocker interference detected!
Wikia is a free-to-use site that makes money from advertising. We have a modified experience for viewers using ad blockers

Wikia is not accessible if you've made further modifications. Remove the custom ad blocker rule(s) and the page will load as expected.