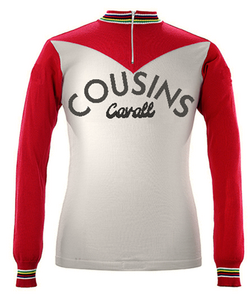 Cavall-Cousins was a Brunanter cycling club well-known in the 1960s. It was founded in 1962 by cyclist Roger Cousins and sponsored by bicycle company Cavall. They were contemporaries of Castelon, Tandpasta Anise and Atlantic Cycle, in the first golden age of Brunanter cycling.
Formation and early years
Edit
Roger Cousins (1930-1997) was a cyclist with the Atlantic Cycle team, joining in 1959 but leaving in 1962 over disagreements on team organization and management. Switching to less-known bike manufacturer Cavall of Brezonde, Cousins formed his own team to race in the Cape Cross-Willemstad race that year.
Shortly after, Cavall owner Juan Martines Cavall sponsored Cousins to create a de-facto factory team, with two more riders joining for the Tour Brunant that year. Cousins would finish third overall, and champion of the mountain stage. Despite this Cousins did not win an event with his club, with an agonizingly close second at the 1963 Cape Cross-Willemstad (4 second behind) his best. A crash and serious injury at the Volta a Catalunya saw him quit cycling and the team went on hiatus.
Team success
Edit
Replacing Cousins as the main racer was Henry Radbone in late 1964, though he was nowhere near as good. Gerard De Horst, one of the young cyclists in the team quickly took center stage and with him the team won the Cape Cross-Willemstad in 1965 and 1967, the Tour Brunant in 1966, the Toulon-Cettatie in 1968; Radbone managed to win the Grijzestad race in 1965.