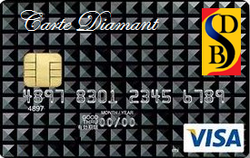 The Carte Diamant is the premier credit card issued by the SD Bank and its affiliates, SD Bank Libertas (in Libertas) and formerly the First National Bank (of Lovia). This card is only issued to select clients, mostly international jetsetters (this explains the €50,000 credit limit). For more exclusive customers there is the "Carte Diamant Elite", similar in design. but with 3 pyramid-shaped greyish-blue diamonds and a purported €100,000 limit.
Carte Diamant Rewards
Edit
This card also doubles as a reward and membership card for various luxurious hotels, boutiques and restaurants internationally.
Some of the participating businesses include:
Ad blocker interference detected!
Wikia is a free-to-use site that makes money from advertising. We have a modified experience for viewers using ad blockers

Wikia is not accessible if you've made further modifications. Remove the custom ad blocker rule(s) and the page will load as expected.