Wednesday December 19, 2018 - 1,50 € - capetimes.bt
---
ELECTION SET FOR 4 FEBRUARY
25 November - Prime Minister Vandreck has announced the next election for 4 February 2019. It comes less than two years after the previous one, and amid a period in which the three previous Prime Ministers were unable to complete their terms. The previous-ruling leftist coalition will seek to maintain their broad majority of seats, while the current government will seek to extend the center-right lead and perhaps rule with a majority.
VANDRECK GOVERNMENT APPOINTED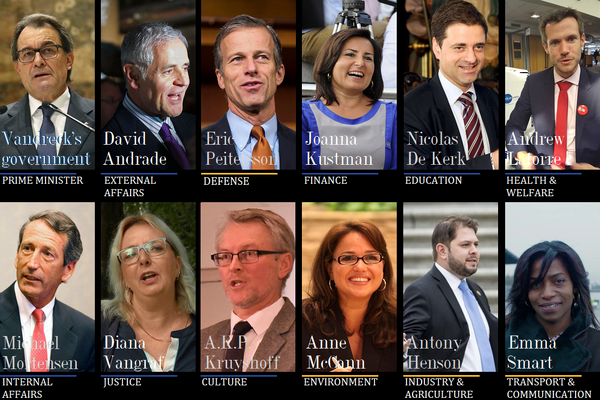 9 September - A minority coalition government has been approved between the CDU and FLP, marking the first right-wing government in over nine years. A government of seven Christan Democrats (plus the Prime Minister) and four FLP members, most former ministers, is to head the task of leading government. A number of ministers have had experience in government, either with the previous one for the FLP or as far back as the Darnley government. Vandreck's government presents a change, in which a number of older, experienced ministers are joined by younger technocrats.
VANDRECK IS PRIME MINISTER

7 September - CDU leader Adrian Vandreck has been named interim Prime Minister following the resignation of Pieter Van Buskirk. Van Buskirk met the Queen this morning and offered his resignation, and when speaking to media said it was the only way to keep things going. Vandreck, in the meantime, arranged a deal with the FLP for a working interim government. Queen Helene received Vandreck with his proposed government, whom he is to reveal in the coming days.
C'EST FINI FOR VAN BUSKIRK
6 September - Pieter Van Buskirk has resigned as Prime Minister amid a growing political scandal which had threatened to derail his tenuous government. After just 239 days of his government, and almost 1 year and 6 months as Prime Minister, his tenure has now ended. The CDU put forth a no-confidence vote on the Prime Minister, and with the knowledge that the SLP would certainly back it, he announced he would provide his resignation to the Queen as he remarked that "I have done all I could for the country but see it is not enough". Congress has adjourned as he meets with Queen Helene, and it is likely she may appoint Adrian Vandreck to lead an interim government if he has enough support; it appears unlikely any SD-led government proposition will succeed at this point.
TIME RUNNING OUT FOR GOVERNMENT
4 September - Time seems to be running out for the Van Buskirk government. The significant fallout from the partly-successful (or unsuccessful) raid in Phaluhm Phoueck in July, and the further compounding with an apparent attempt to remove a Phaluhm Prime Minister from office is catching up. Earlier today four SLP members announced they would no longer back the government, which puts the Prime Minister in a precarious position, especially as party deputy leader John Sayer announced he is losing the confidence of "the whole party". He stated that the government has tried to "shield itself with lies and unclarity" and that no straight answer was forthcoming.
Rumors are now abounding on a potential no-confidence vote, which appears like it could gain traction, or even be enough to see the government fall.
VAN BUSKIRK GOVERNMENT KEEPING SECRETS ON PHALUHM WAR
31 August - According to a variety of online sources and accusations by several prominent politicians, Brunant was made aware, if not complicit in discussions about potentially removing former Phaluhm Prime Minister Jorge Wannas from office earleir this year. Wannas often clashed with SEDEF leaders, and according to a leaked memorandum may have been suspected of harboring ties or support to armed Islamists in the country.
CDU president Adrian Vandreck launched a furious attack on the Prime Minister and government for trying to subvert the democratic government of the nation Brunant was sent in to assist. While Wannas was eventually removed for corruption, issues, he went on to say that the government had no right in even being party to any such discussions, much less any sort of "participation in a coup attempt". A number of congress members, including from P70 and the newly-founded Transparent and Direct demanded the government disclose all information and push to exit the war.
Van Buskirk countered with saying Brunant did in no way intend to do anything to remove any elected official from office nor attempt to circumvent the democratic institutions in place. In his speech he said that "Brunant is there as part of the Sedef mission to bring peace and stability to Phaluhm Phoueck, and to eliminate the armed insurgency that threatens its security and prosperity".
Sources are not clear as to where or how the memo came from and got into Brunanter hands, but it is almost certain it went through the higher levels of government and the Department of Defense. The Phaluhm government has clearly and understandably shown displeasure at this unfolding scandal, and we wait to see what comes out of it, with the government already in hot water over their mid-June raid in the country.
GOVERNMENT ATTACKED ON ALL SIDES
27 August - The fallout from the ill-fated raid to rescue Sergt Coy and Corpl Grantham is finally catching up to the Prime Minister and government. While questions were being asked by the public, many had been waiting for a formal investigation to conclude before bringing criticisms.
General Gabriel Styler's thinly-veiled attack on the political decision-making and weight behind the attack only seemed to fuel further criticism from the opposition, and even by some coalition members. A Better Brunant leader Avaline Porter was displeased at the "military, over political" solution so quickly taken, and the fact that neither she or her party were informed until likely after the raid was concluded.
Even Free Liberal Party member John Markovic took to criticising his own party and leadership for supporting the ill-fated effort and lacking the transparency to properly explain, or at least push for, a clear answer. He made it clear he may end up leaving the party.
All this drama was further stoked by the announcement made early today that General Styler would resign his position by the end of the year. No detailed explanation was given, but given the timing of his resignation and the speech he gave days earlier in which Grantham's death may have been friendly-fire could be a sign of him leaving a sinking ship, or a forced out.
2018 PHALUHM PEACE TALKS ANNOUNCED

25 August - The Phaluhm Government just announced at 10pm that a Peace Summit is planned for the 10th October in the capital of Dauham Sammar Hazaham. This peace summit will be attended by the Brunanter Prime Minister, with Libertas, Traspeses and Pintoan representatives. Also to attend is delegates from the Muslim Party and the Islamic Front.
The visit will also include touring the atoll and also meeting up with our soldiers on the front line. A declaration will then be signed between the two parties, further ensuring a peace treaty can be signed.
It has been hinted that the Phaluhm government is eager to sign a peace treaty between the Government and the Islamic Front, so more resources can be allocated for further development and it's resistance against a growing China.
THIRD BABY EXPECTED FOR QUEEN

14 August - The Royal Palace has announced that the Queen is expecting a third child. It was confirmed that an admittance to hospital earlier in the month was indeed linked to the pregnancy. According to the palace, "Their Majesties are happy to announce that the Queen will be expecting a third child. The baby is expected for the spring of 2019."
Royal watchers are speculating that the baby could be born as early as March next year. The newest royal will be the youngest sibling to Princess Marianne, age five, and Prince Cristian, age four.

IDENTITIES OF CAPTURED SOLDIERS REVEALED
16 July - Footage has been released of the two captures soldiers in Phaluhm Phoueck. Through social media and other online reports, one was and is now definitively confirmed as 32 year-old Sergeant Diana Coy. She is with the 26th Support Company, of part-Lovian heritage and has a child. The other soldiers is 22 year-old Corporal James Grantham of the 30th Infantry Company. Both were captured when their patrol vehicle was stopped and they were ambushed.
Footage reveals them in a house, Possibly in a town in Phasu, and for brief moments their captors, armed, are shown, demanding the withdrawal of all foreign troops, the immediate end to the war by the Phaluhm government, and release of every prisoner.
It is yet unknown what is being planned by the military.
SOLDIERS HELD HOSTAGE IN PHALUHM PHOUECK
14 July - The military announced late today that the two missing soldiers in Phasu were indeed taken hostage. It is unknown if they were kidnapped, but they were most certainly being detained by an armed group, possibly linked to the Islamic Front.
No Brunanter soldier has ever been in the hands of an enemy force since 1944, a particular worrisome issue not only for the families of the soldiers, but to the entire Royal Guard.
BREAKING: TWO SOLDIERS MISSING AND PRESUMED AS HOSTAGES
14 July - Two soldiers have been kidnapped in Phaluhm Phoueck and are believed to be held hostage. The soldiers, of unknown name and rank were part of a patrol with the 26th Support Cie, and were captured near the town of Phasu. Their families were informed and the military seems to be investigating.
Phasu is considered a fairly dangerous area, and Brunanter soldiers have been attacked there in the past.
FORMER KING ANTHONY IS DEAD
25 May - Former King Anthony has died on 25 May of medical complications, surrounded by his wife and children. Aged 66 and weeks away from his 67th birthday, the former king died in the early hours while at hospital.
The palace made the announcement of his death at 6:00 in the morning, saying he was finally able to rest. Prime Minister Van Buskirk called him an outstanding monarch and person.
Anthony, while king only for under two years, led an accomplished life nonetheless. He studied in New York and London, served with the military for 25 years, joining them in Afghanistan in 2006. Upon his abdication, he spent his time with his youngest son, growing wine, reading, and learning to dance tango.
This sudden health complication was one of several occurring in the past six years, which say him have several operations and visits to hospital. The manner of this last one is unknown, but his wife and four children were able to join him in his final moments.
An official mourning period has been declared, and flags will be at half-mast for six days. The funeral has been arranged for 29 May; condolences can be given in a special book at the royal palace or online.
TWENTIETH COALITION CASUALTY IN WAR
5 February - Two Traspesian soldiers have died, and one other has been wounded in what are the 18th, 19th and 20th casualties, and tenth for Traspes. The Diario de Cerques' put it plainly on their front page: Ya Son 10 (It's 10 Now). Two of the soldiers were in the Reval region, where Brunanters of the 30th Company are stationed, and for the other, Corpl. Manuel Fernandez, the details surrounding his place and manner of death is unknown.
GOVERNMENT INVESTED AFTER EIGHT MONTHS
10 January - A government has finally been selected after eight drawn-out months of negotiation and attempts. The installment of the Van Buskirk government will end the deadlock for so long, still being a four-party minority government. Prime Minister Van Buskirk, speaking to the media on his first day formally installed, stated he applauded those parties that finally saw the futility of drawing out the deadlock further and allowed his government to take charge.
Van Buskirk's government sees five new ministers occupy roles, with the others being shuffled around. A new ministry, Internal Affairs and Immigration, was created, and Jazinta Benaid was placed in charge of External Affairs, further marking her rise in government.
FIRST COMBAT DEATH FOR BRUNANT IN PHALUHM PHOUECK
9 October - Brunanter soldier Juan Daniel Kuster has been killed in the heat of battle as a result of friendly fire. Details are not well known, but in operations near the small settlement of Kebahan the 1st Company came under fire and had to request Straslander artillery support.
Kuster died as a result of the shelling, due to miscalculations of sorts. He will be repatriated to Brunant in the coming days, with full military honours. Corporal Kuster, from Sint-Willemstad, was said to be engaged with his girlfriend of some time.
PROTESTS HELD AGAINST WAR
12 June - Some 600 people marched in Koningstad today over the IED attack on Private Abboud and Lieut. Andrew Martins in Phaluhm Phoueck. Protestors, concerned about the tide of the war and ever-increasing casualty figures led a brief though noticeable march along the length of the Dortmund River. The positioning of Brunanter troops into the line of fire and direct confrontation with insurgents was a point often brought up, as well as the high number of casualties for this month.
According to a press briefing by the Royal Guard, they lamented the combat loss of <<two ready and able soldiers>> but announced that through their and others' efforts progress was being achieved and the armed insurgents were feeling SEDEF's force.
BRUNANTER TROOPS TO COMMENCE NEW OPERATIONS
1 June - The 7th Infantry Company is now the third Brunanter unit sent to Phaluhm Phoueck, and for the first time in the war two companies are concurrently in the country. Pictor Cie has been sent to the south as part of the new operation known as Ghost, in which several SEDEF nations are participating in. Though the troops are working with Straslander marines to secure a defensive position, they are now in a line of direct combat with the enemy over their security patrols of the past year.
SARRIA: INVESTIGATE ALL PARTIES' FUNDS
15 March - If it were up to Yes to the Future list header Aina Sarria, the GP corruption scandal's investigation should ve much broader. In a brief press conference, she stated that all major parties should have their financial expenditures and use of funds investigated in regards to recent events. According to her, other parties are likely to have discrepancies in their finances. She said <<the GP are the ones who got caught. Imagine what else has still gone unnoticed.>> Following up on that SD member and former PM Ines Michels said there is no need for a time consuming investigation of all parties, considering the Greens were the main issue at the moment, and that the nearing elections should be the focus of the parties instead.
SOCIAL DEMOCRATS FORCE GOVERNMENT TO FALL
14 March - The Social Democrats have announced they will no longer back Wostor and the Greens and he has been forced to resign as Prime Minister amid accusations from all sides. SD leader Pieter Van Buskirk said it was <<imperative [Wostor] go, as the prime figure in the scandal>> and that <<a smooth transition to an interim government is our best hope>>. 13 Green Party members, about half the members in the house, led by deputy leader Warren Sheraldin, have left the party and are in the process of establishing a <<largely leftist>> party for the environment and animal welfare rights, to succeed the ailing Greens.
GREEN PARTY INVOLVED IN FINANCIAL SCANDAL
13 March - The Green Party has become the center of focus in massive corruption allegations. Documents leaked to the media suggest the Greens, in particular Prime Minister Wostor, diverted funds, both from government allocation and the government itself to back candidates from his family and inner circle in municipal elections in 2015. The extent of what funds were used where are not yet certain, but it is likely a large investigation will commence shortly.
Coming a month before elections are to happen, Wostor's Greens, who looked set to perhaps finish in first again are likely to tumble in the polls.
BRUNANTER TROOPS BUILD SCHOOL IN PHALUHM


3 September - Work is well underway to complete a school near Tohezeck in Phaluhm Phoueck. The school, destroyed by islamists has begun to be built again by Brunanters and locals. Students who lived near the school had been forced to go to Tohezeck itself, or could not even go to school.
Completion of the school is due for the end of the fall, with students being able to start their schooling in Janaury.

BRUNANTER SOLDIER INJURED IN PHALUHM
27 July - Brunanter Private Bosch has been injured by a roadside IED bomb in the center of the country, in the area of Khabal. He is the first Brunanter casualty in the conflict. Private Bosch was travelling with an unnamed Pintonan medic, who was killed from the blast.
ALTERNATIVE LEFT UNITES IN CONGRESS
18 July - A double shock this past week has led to the creating of a new party in Congress for the anti-austerity, republican left. Four members of the Socialist Left party changed sides, with three going to Esquedra Republicana na Barzona and Saturday one joining Avanze. Following these quick changes, Avanze and ERB announced the creation of a formal coalition group in congress, essentially a political party, which brings the alternatives to five seats in the House of Representatives.
VAN BUSKIRK, HOUSE CONTEST SDP LEADERSHIP
17 July - Pieter Van Buskirk and Karen House have finished first and second, respectively, in the race for the Social Democratic Party leader. Some 250 votes separated Van Buskirk from House, with third-placed Ines Michels 200 votes from House. A second voting round next weekend determines a leader from either of House or Van Buskirk. Education Minister Henley, the leading candidate when announcing his intentions was weakened by like-minded Van Buskirk joining in the race, and further fragmented by a large number of votes going to House. Sherman finished fifth in the race, though not very far behind Henley.
The shock was House finishing in second place. Much of the party's municipal government members announced they voted for House and her more grassroots approach, and now the outsider candidate is definitely in as she could possibly become leader in one weeks' time. Already Henley and Michels have moved to back Van Buskirk, but it seems that Sherman, as one of the newer congress members, could possibly end up supporting House.
HENNEMAN STEPS DOWN AS SDP LEADER
4 July - Gert Henneman announced his retirement as leader of the Social Democratic Party on 6th July, prompting the start of a leadership race for the party. He announced that "a new generation of party members should help lead the party" and that a new face may better represent the party.
Henneman was elected Cape Cross mayor at the end of 2015 and he intends to focus on his work in the city, prompting his resignation. The party leadership will organize an election for this month.
KONINGSTAD MAYOR SUGGESTS IWO EXIT

25 June - Koningstad mayor Karen House announced Friday that it may <<be the time>> to reconsider Brunant's membership in the International Wiki Organisation. Speaking after news of Britain's projected EU exit, she said the IWO was in a much worse state of affairs compared to the EU and that Brunant was getting nothing out of being a member. She argued that the IWO was a <<bureaucratic mess>> that could never agree on passing any amount of legislation, easily solvable by the use of bilateral cooperation.
Asked why she has been the first significant person to propose such an exit, she stated that Koningstad bore most of Brunant's contributions due to being the most populous city, and that said money would be better off being spent towards other urban projects. No other major politician has spoken up against the IWO as of yet, nor has House's political party, the Social Democratic Party, determined a stance on this debate.
SDP GETS PLURALITY IN CAPE CROSS ELECTIONS
25 September - The Social Democrats received a significant 40% of the popular vote and have twice the number of seats in the government than the second-placed Green Party and Esquedra Republicana na Barzona. Former president Gert Henneman will serve as mayor, as the SDP has 8 seats and requires only two more councillors' backing to achieve that goal.
In Brezonde, no candidate got more than 30% of the vote, and it will not be easy selecting a mayor there. Koningstad saw Avanze and the Greens lead in number of seats, at eight each. The Greens and SDP are likely to vote there together, both unlikely to back or be backed by Avanze, and Ramzi Karimi may well return for a second term as mayor.
SMALL PARTIES AHEAD IN POLLS
8 October - The underdogs seem to be taking a real advantage in the municipal elections. Nationally, they've been polling fairly high, and are presently among the top choices for voters in Brezonde, Cape Cross and Koningstad. Though these are overall more left-leaning cities, they have always voted for the large parties (or large-affiliated). With around 44,4% of the vote, newcomers Avanze is claiming a lead over the second-placed Green Party in Koningstad (33,3%). While Cape Cross is polling SDP and the Greens as the top two parties (around 28,5% each), Esquedra Republicana na Barzona is not far behind with close to 24%. And in Brezonde, ERB have taken a commanding 38,8% of support at the moment, significantly ahead of the party's other rivals.
TAGOGESE AGENTS ARRESTED
25 September - The National Police has arrested two Tagogese nationals in Koningstad, believed to be members of their oppressive secret police, the Tagpol. Both men are being investigated as part of the kidnapping of Tagogese opposition member Zheng Hang-Fu, who was in exile in Brunant. NP Commissioner Michael Handley stated that "...police were able to undertake their work effectively" and that Zheng is very likely being held in Brunant.
A heightened police presence was seen in Koningstad and Grijzestad today, for better preparedness.
BRUNANT TO ACCEPT IMMIGRANTS
14 September - Health and Welfare Minister Martina Lorens has ststed that Brunant should be prepared to accept some 250 immigrants under a proposed EU plan. For the moment, Brunant has not been directly affected by the migrant crisis, but she stated it was time to take proactive action to address potential issues. The government is further considering looking to have the Royal Navy further patrolling Brunant's waters to keep track of suspected smugglers and to be better prepared to rescue people left stranded.
DISENCHANTMENT WITH LOCAL POLITICS
11 June - A number of people took to the streets in Niesburg and Grijzestad, not so much to protest against congress but showing their displeasure at their mayors and local government. About 900 people were out yesterday in Niesburg, the largest turnout yet, protesting the lack of social spending by the mayor given the economic uncertainty. A number of people were unhappy at the ruling SDP and Green parties due to focusing on getting votes over dealing with the issues that needed to be tackled.
In Grijzestad, some 400 people were out demanding the local government be more involved in promoting better social security, especially for the needy. Nurse David Dekker said he was out as the "Greens have become yet another vote seeking party instead of focusing on the needs of most people".
ECONOMIC FORECAST LOOKING POSITIVE
16 April - The forecast for economic growth in 2015 looks to be heading in a positive direction, certainly when compared with the outlook from 2014. Growth looked to be very minimal, with the government certainly mulling increasing the IVA tax and lowering spending in a few areas.
Growth in Brunant, projected for the year is close to 2%, and by 2016 or 2017 should surpass such a measure. A predicted negative growth for the economy is not likely to come due to a number of small government measures and business growth in Brunant and abroad. Some austerity measures may yet be implemented, including slightly higher taxes and lowering spending to the military and other programs. Despite this, the country is not out of recession just yet, and it will take some time to see if this growth persists.
THE THALER IS BACK!

6 February - The thaler is back, in Middleton at least. A group of locals have just launched the Middleton Thaler, inspired by the Brezondian Lira, Brixton Pound and other local community currencies. The point of this is to promote the local economy and businesses, ensuring people buy local.
This thaler is pegged at 1 to 1 with the euro and comes in denominations from 1 to 25, each featuring a local-born celebrity such as pop singer Joey Warner and actress Elsie Hale.
---