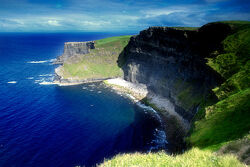 The Cape Cross National Park is one of the national parks of Brunant, located in the Cape Cross Parish. It was opened in July 1921 as the second national park of the country, after the Dunant National Park in Chester Parish.
Dunant National Park was the first national park in Brunant. In Cape Cross, many people wanted to have a national park in the region, as it was the most populated and distant from Dunant. Many naturalists and other people also said that the Cape Cross' natural beauty should be preserved. The park was officially opened in July 1921.
Geography
Edit
Mount Hargreaves, the highest mountain in Cape Cross, is located in the middle of the park, surrounded by forests. The famous Crabs Bay is a popular fishing place and swimming area. Many European tourists visit Crabs Bay and many beaches. In the northern area are many cliff very popular with tourists and the local inhabitants.
Ad blocker interference detected!
Wikia is a free-to-use site that makes money from advertising. We have a modified experience for viewers using ad blockers

Wikia is not accessible if you've made further modifications. Remove the custom ad blocker rule(s) and the page will load as expected.