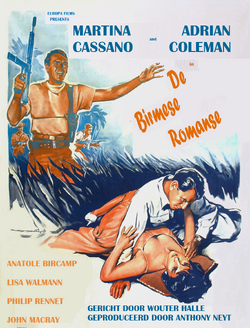 Burmese Romance is a 1962 Brunanter film produced by Europa Films.
The film was about a group of elite Brunanter soldiers (Squadron 8) who are sent to Burma to combat a communist insurrection. It mainly centers on Captain Horst (played by Adrian Coleman); he falls in love with nurse Elisabeth (played by Martina Cassano) and at every moment has communist guerillas breathing down his neck, all following orders from their leader (played by Anatole Bircamp). Philip Rennet played his first role in this film.
Ad blocker interference detected!
Wikia is a free-to-use site that makes money from advertising. We have a modified experience for viewers using ad blockers

Wikia is not accessible if you've made further modifications. Remove the custom ad blocker rule(s) and the page will load as expected.