This page or section is a work in progress.
You are welcome to help in its construction by editing it as well.
If in doubt, please contact the most recent editor, Horton11.
Brunants Post is the government-owned postal service of Brunant. Brunants Post is headquartered at Nr. 1 Drenthestraat, an old 19th century building in Koningstad Centrum.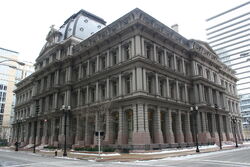 Early history
Edit
Brupost was founded in 1870 as the national postal service. Prior to that there were various local and regional services that had little coordination and had varying tariffs. This postal service set up nationwide standards. In 1884 it introduced Brunant's first postage stamps. Brunanter airmail service began in 1918 when an airplane was sent to Marseille to deliver letters, though this did not last long.
Postal codes
Edit
Postal codes were introduced by Brupost in 1970 as part of their digitization program, and to make sending letters easier.
The mail was delivered on horse until the early 20th century. In the late 1950s Dodge vans came into use, until 1985. Presently Brupost uses Ford Transit Connect vans and is acquiring Atenis Activa vans.
Post boxes
Edit
There are a number of different post boxes used in Brunant.
Postal service
Edit
Brupost operates 57 post office across Brunant. Many are located in Cities and Towns but there are a few that are found in rural communities as well. The current postal rate in Brunant is 50 cents domestically and 1€ for to Europe. Parcel rates vary depending on size and weight.
Ad blocker interference detected!
Wikia is a free-to-use site that makes money from advertising. We have a modified experience for viewers using ad blockers

Wikia is not accessible if you've made further modifications. Remove the custom ad blocker rule(s) and the page will load as expected.