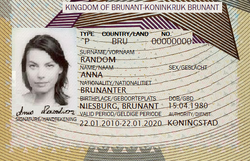 Brunanter Passports are passports issued to citizens of the Kingdom of Brunant. Bearers of a Brunanter passport may use it as a proof of cotizenship, and are able to travel to 172 countries visa-free. A 32-page passport for adults is 60€ and 40€ for children under 18 years.
Brunant first issued passports in 1877, as more and more nations were requiring them for travel abroad. In 1921 Brunant issued the first of the blue passports, which were issued until 2012.
In the 1990s Brunant began issuing European Union passports, but it was only until 2013 that the government began issuing the standard burgundy-colored passports. There was much opposition to the change in color, which was why it took a long time to approve and implement. Blue passports became invalidated after one month of the burgundy ones being introduced, with persons required to replace them for validity.
Passport types
Edit
Most passports are of the regular type. These are issued to citizens are are required to be renewed every 10 years (for adults) and every 5 for minors.
Diplomatic
Edit
Diplomatic passports are issued to diplomats and other consular staff sent abroad. These passports are dark green, having held that color since 1935.
Physical appearance
Edit
The passport is burgundy-colored and features the Brunanter coat of arms in the center. The words "PASSPORT" AND "PASPOORT" appear on the top and the full country name appears below in Dutch and English. Since 2010, biometric passports have the standard biometric symbol at the bottom. Along with France, Brunant was the only country to not feature a burgundy-colored passport cover, though this is being changed in 2013.
Photo of passport Holder
Type (P)
Code of Issuing State (BRU)
Passport No.
Surname
Given Names
Nationality
Date of birth
Sex
Place of birth
Authority
Date of issue
Date of expiry
Bearer's Signature
Application
Edit
All citizens of Brunant are entitled to a Brunanter passport. In Brunant, applications for a passport need to be made in person in government offices handling travel. Overseas applications need to be made in person at a consular authority (i.e. embassy or consulate). In order to apply for a passport, an individual needs to provide proof of citizenship. Currently no photograph is required, as a digital photograph is taken at the time of the application.
Visa-free travel
Edit
Brunanter citizens are ranked as tied for fifth most countries able to visit visa-free, tied with Austria, Japan and Singapore.