This page or section is a work in progress.
You are welcome to help in its construction by editing it as well.
If in doubt, please contact the most recent editor, Horton11.
The Brunanter State was the collaborationist government state of Brunant during the country's occupation by Nazi Germany in the 1940s. It was set up by Brunant's military commander, Heinrich Schneider.
The ideological base of the Brunanter State coincided with that of National Socialist Front, as many of its members came from that party. Its first leader, Cristian Everard was a great admirer of Mussolini, and embraced most of his aspects.
Brunanter State supporters demanded a return to traditional lines of culture and religion and embraced authoritarianism while dismissing democracy. Brunanter State was intensely anti-Communist, but anti-semitism wasn't widespread.[1] According to historians, there was a wide range of people supporting the Brunanter State, from moderate conservatives to far right-wingers.
Fall of Brunant and establishment
Edit
On 20 May, 1941 the Germans invaded Brunant and the country was conquered within a few days. During the fights, some pro-Nazis fought voluntarily for the enemy, as it was obvious that Brunant would fall. After a short time of military rule, Heinrich Schneider set up a civilian government in cooperation with Cristian Everard.
The new government was formally established on August 15, 1941 and Everard was appointed its Minister-President. Everard chose himself the ministers, but he had first to obtain Schneider's consent. Most of the previous congressmen fleed the country, while others, including the President Willem Darnant, were captured.
State collaboration with the Nazis
Edit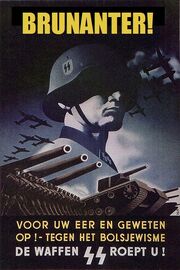 Historians distinguish between a state collaboration followed by the new regime, and "collaborationists", which usually refer to the Brunanter citizens eager to collaborate with Germany and who pushed towards a radicalization of the regime. Noteworthy is the fact that several members of the government (e.g. Egbert Mohren and Lucas Helsinger) weren't too keen on collaboration with Germany (although accepting Everard's state collaboration).
As soon as it was established, the new government took measures against the so-called "undesirables": Jews, Freemasons, Communists, Gypsies, homosexuals and left-wing activists. Victor Ghijbels was especially known for his hatred against the communists. In October 1941, Andreas Borst founded the Security Legions, in order to support the German occupation troops.
Propaganda in favor of the Nazis was also essential to Brunanter State. Most of the posters depicted the Nazis as friends and benefactors, while others called the Brunanters to show no tolerance towards the "enemies of our glorious nation".
Social and economic history
Edit
Liberation of Brunant and aftermath
Edit
Footnotes
Edit
↑

Everard himself was initially opposed to the brutal treatment of Jews seen throughout Europe

↑ For your honor and conscience! Against Bolshevism!
Ad blocker interference detected!
Wikia is a free-to-use site that makes money from advertising. We have a modified experience for viewers using ad blockers

Wikia is not accessible if you've made further modifications. Remove the custom ad blocker rule(s) and the page will load as expected.