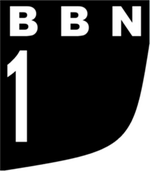 BBN 1 is the BBN's news channel. It gives out national and international news reports at 7:00, 12:30, 17:00, and 22:30 (English) and 7:30, 12:00, 17:30 and 22:00 (Dutch). Throughout the rest of the day BBN 1 broadcasts local news reports, finance and politics. All of its reports are in both English and Dutch, and there is also a Barzuna-language report in the afternoon.

BBN TELEVISION:

-
-

-
BBN RADIO:
-
-
-
BBN INTERNATIONAL:

-

Ad blocker interference detected!
Wikia is a free-to-use site that makes money from advertising. We have a modified experience for viewers using ad blockers

Wikia is not accessible if you've made further modifications. Remove the custom ad blocker rule(s) and the page will load as expected.