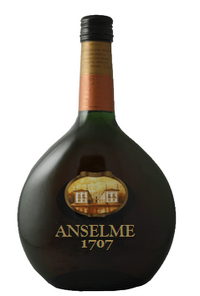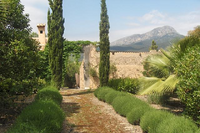 Anselme is a really old Brunanter winemaker in the Chester Valley of Sint-Anders Parish.
Anselme was founded in 1707 by Anselmius (or Anselme) Jansteen. He owned a small plot of land in north Sint-Anders Parish and with four other workers grew their own grapes and made their wine. The variety grown was Moscatel grapes, and that small terroir became known for its excellent flavor.
Nowadays Anselme produces only a few hundred cases yearly, among the lowest of any commercial winery in the country. Each bottle cost €120+, depending on the vintage and the variety. The most expensive bottle was a 3-year bottle (2006) that sold for €900, though antique bottles have been auctioned off for several thousands through the years.
The Winery
Edit
Anselme winery is located on a small and charming plot of land south of Grijzestad. The house was built in 1557 and has been occupied since then. The land was originally an apple orchard, but the growing of apples was stopped in the 1700s to concentrate on winemaking, which was much more profitable.
Anselme's winery is open during the summer months for wine tastings. They must be booked beforehand.
Ad blocker interference detected!
Wikia is a free-to-use site that makes money from advertising. We have a modified experience for viewers using ad blockers

Wikia is not accessible if you've made further modifications. Remove the custom ad blocker rule(s) and the page will load as expected.