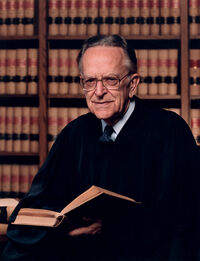 Andrew James Morris (9 June 1915 - 26 March 1976) was a famed President of the Supreme Court.
Biography
Edit
Morris was born in Cape Cross to a family of lawyers. His parents trained him in law, but he took little interest that so he switched careers to medicine. He worked in various posts at the Department of Health. In 1961 President (and former Court President) Andrew Kirkley named him Court President. He survived and pleased the Dort and Sherman administrations. He decided Putela Distribution v. AJI-NO-MOTO. He was so acclaimed that he remained as President of the Supreme Court until his death in 1976.
Ad blocker interference detected!
Wikia is a free-to-use site that makes money from advertising. We have a modified experience for viewers using ad blockers

Wikia is not accessible if you've made further modifications. Remove the custom ad blocker rule(s) and the page will load as expected.