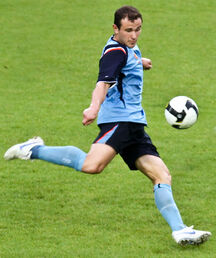 Andreas Brock (born 5th April 1979, Koningstad) is a Brunanter former footballer who last played for FC Pieter II. He originally joined the youth ranks of FC Kings but in 1996 was transferred to Peter I for Th. 1,900,000, a record sum for a U-20 youth player. He joined the full team in 1999 and has since then enjoyed a good career with the club. In the early 2000s there was interest from St. Marks Koningstad and other better teams, but he opted to stay. At the end of the 2015-16 season, Brock retired from playing football, aged 37.
Brock featured in the national football team from 2002 and played in a few key games, notably at the World Football Championship. Since 2009 Brock featured less in games and was only featured in a few games as a substitute. 
Ad blocker interference detected!
Wikia is a free-to-use site that makes money from advertising. We have a modified experience for viewers using ad blockers

Wikia is not accessible if you've made further modifications. Remove the custom ad blocker rule(s) and the page will load as expected.