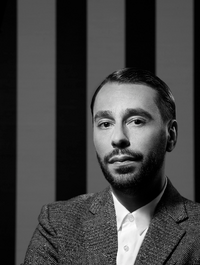 Alexandre Sarria-Boynes (born 2 May 1963) is a Brunanter fashion designer and founder of Sarria fashion house. Sarria is probably the most well-known Brunanter designer abroad and in Brunant, with his contributions to fashion earning him the Medal for Arts and Letters in 2009.
Biography
Edit
Early life
Edit
Sarria was born in Niesburg and was able to study at the Ambrosian College due to his excellent marks in school. He began designing in the mid-1980s. In 1988 he displayed his first designs for Mode Week, which earned him some praise and recognition.
Robert Rand
Edit
Following his showing at Mode Week 88, Sarria was hired as a designer by Robert Rand. Sarria brought in fresh ideas to the brand, but had frequent conflicts with more traditional designers. After threatening to leave, he was promoted in 1991 to design head at Robert Rand. Sarria remained as head designer from 1991 to 1994. Despite his position, his creativity was constrained due to the more output-direction of the company. He eventually resigned in 1994.
In 1994, Sarria joined Monk and was placed at the helm of design there by Gabriele Monk, a well-known designer. At Monk he was given full creative rights and created some of the most modern designs of the 1990s. He arguably had the best collection at the spring edition of Mode Week 96. In 1999 he announced his retirement from Monk to begin work on a project of his own.
In 2000 he launched his own fashion house, Sarria. At Sarria, Alexandre was able to bring his dreams to reality. He began to create designs using historic inspirations and was praised for his work. Sarria would become known for his extravagant designs, many of which inspired his readywear collections. In 2009 he was awarded the Medal for Arts and Letters, the most prestigious decoration in the arts. Following this he released some of his highest-praised collections, such as the 2011 fall, 2012 spring and most recently the fall 2013 collection, inspired by vintage design.
Personal life
Edit
Sarria was involved with a variety of models over the years, including Karen Vogelaar. Most recently he has been with young Polish Kazia Bartkowicz, one of his models at Sarria.
He is a relative of Aina Sarria, who's a politician and cheese maker.