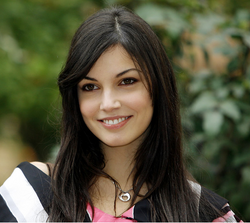 Alessandra Artigas-Villanova (born 7 March 1984) is a Barzuna model and fashion designer.
Biography
Edit
Early life
Edit
Artigas was born in Cape Cross to Lourens Artigas and Marta Gand, a couple of Barzuna origins. They moved to Brezonde in 1989, her father looking for employment.
Modeling and designing
Edit
Artigas began modeling in 1993, for Angora department store catalogs. In 1997 she began to model for Robert Rand and would appear in various fashion shows throughout the early 2000s. In 2005 she started her own fashion line, ArtiGas. Designing has taken up most of her work, though she still models occasionally.
Her first acting role was in the TV series De Piraat in 2001. She played a young girl whom Reis adopts. She used the Barzuna language in this role in several occasions, one of the few occasions where it appears in major national TV shows.
Artigas is presently acting in the series Caroline, with the role of the king's mistress Elisabeth.
Personal life
Edit
Artigas began dating actor and model Mario Villanova in 2007. On August 23, 2008 she married Villanova. Their wedding took place at the Royal Koningstad Hotel and there were over 200 guests (the cost was reported to be around 1,000,000 €). 101 days later (December 1) the couple divorced, and there were rumors of affairs and other extramarital scandals. In 2010 she remarried, to FC Kings and Brunanter goalkeeper Peter Boesman. They had a daughter, Maria in 2011.
Ad blocker interference detected!
Wikia is a free-to-use site that makes money from advertising. We have a modified experience for viewers using ad blockers

Wikia is not accessible if you've made further modifications. Remove the custom ad blocker rule(s) and the page will load as expected.