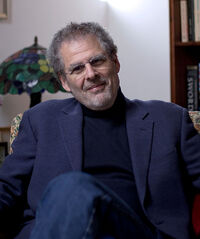 Abraham "Abe" Costello (born July 11, 1947) is Brunanter film director and screenwriter. Best known for his exploitation movies, he is widely considered the successor to cult cinema icon Herbert S. Hosen. In recent years, however, Costello has moved to more mainstream films.
Life and career
Edit
Costello was born in Chester to Vincenzo Costello, a "soldier" in the Montesini crime family. Costello was introduced to the mob but he hoped to become an actor. He had a minor acting career in the mid 1960s but later felt that acting would not suit him.
Costello worked with minor directors until Hosen chose him as an assistant director in 1970. He began directing films on his own in 1975, when he was selected for Killer Bus II: The Reckless Return. During the 1980's Costello directed various exploitation films, many of which have gained cult following. Some of his top films from this era include Big Sister, V for Vengeance and Angela and Clara. In the '90s, Costello turned to horror movies, but without much success. Nevertheless, The Eye is considered a cult classic nowadays.
In early 2000's Costello lend multiple times his voice to the animated series House of Sanity. His most successful film (both critically and commercially) came with History of a Mob Wife in 2004.
Personal life
Edit
In 1972, Costello married Gertruida Haak, a make-up artist, whom he met while shooting The Last Temptress. They had one daughter (Helena, 1973), but they divorced in 1980. Later on, Costello married the Danish actress Mathilde Norup, who starred in many of his films. With Mathilde, he had a son (Filipo, 1987).
Filmography
Edit
With H.S. Hosen
Edit
By himself
Edit
1975 - Killer Bus II: The Reckless Return
1978 - The Couple Living Upstairs
1980 - Big Sister
1981 - V for Vengence
1983 - Dr. Le and his Women
1984 - Hot Breath
1986 - Angela and Clara
1993 - The Eye
1995 - Evil Unlocked
1997 - Full Moon
1999 - Blood on the Pavement
2001 - Punishment
2004 - History of a Mob Wife
2008 - The Conspiracy
2010 - Secrets of the Nights
Ad blocker interference detected!
Wikia is a free-to-use site that makes money from advertising. We have a modified experience for viewers using ad blockers

Wikia is not accessible if you've made further modifications. Remove the custom ad blocker rule(s) and the page will load as expected.