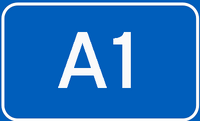 The A1 is a principal motorway in Brunant. It traverses Central Island, going from Cape Cross through Koningstad-Dortmund to Sint-Willemstad. It is the only A-leveled motorway on the island. As the principal route in Brunant, vehicles were allowed to drive up to a high speed of 165 kph in certain areas, though slow-moving vehicles were required to use the slow-moving right lane. In 2017, the top speed on the A1 was reduced to 120 kph.
The A1's route has existed since 1949 (then called the Autoway). Between 1968 and 1971, the A1 was built. There was formerly a toll, but it was removed in 1980.
The motorway is 104 km (65 mi) long, making it the longest motorway of Brunant.
Exits and junctions
Edit